Best Baby Carriers of 2016
Baby carriers are used as a parenting tool/ accessory and are used by many parents nowadays. Not only because it is convenient, but also because it allows you to do multiple tasks while carrying your baby.
No matter how cozy a swing or bouncy seat is, babies like being cradled in your arms best. But toting your love around all day isn't really feasible unless you have arms of steel, and a bunch of minions to do your daily tasks. That's where a baby carrier comes in handy.
Do you need a carrier?
Getting a carrier isn't a necessity – you could use a stroller when you're out and about and a bouncy seat or swing at home. But it is the only gadget that lets you do your own thing, hands-free, while your little one relaxes against you. Most parents say it's their favorite baby product, no matter the type or brand. It gives your arms a break and can easily sub in for a stroller, especially if your child gets upset when they can't see you or you need to navigate crowded spaces like airports and stadiums. It's also great to use if you like hiking and want to bring your child along.
When do you need a carrier?
Some parents only use a baby carrier when their child is small – newborn through six months or so. Other parents continue to use a carrier well into the toddler stage. You'll get the most out of it before your little one learns to walk and wants to roam free.
Most parents swear that baby carriers are a lifesaver, so you really can't go wrong adding one to your registry. Baby carriers come in three styles:
Wraps: A super long piece of stretchy fabric you configure and tie around your body, usually over your shoulders and around your mid-section, to create a carrier
Slings: A wide piece of fabric that goes over one shoulder and across your torso
Structured Carriers: More like a backpack with straps over the shoulder and a padded carrying "pack" that can be placed on your chest or back
Choosing one depends on what you think will work best for your family. To start take a look at these carriers that got the highest props from BabyList parents.
Carriers for Newborns
These carriers are ready for your little love as soon as they are born, without the use of an extra insert. However, your baby will most likely outgrow these picks when they turn 12-15 months old.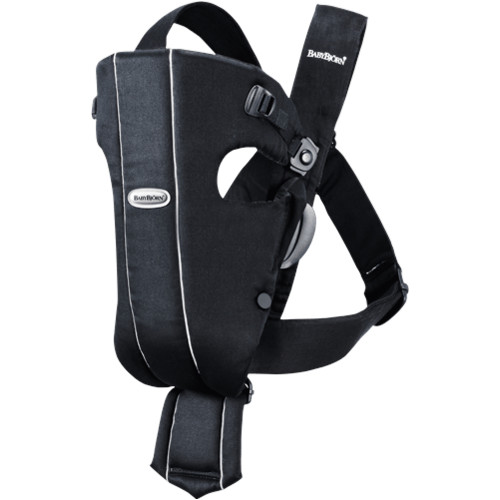 BabyBjorn Original Baby Carrier
WHY WE LOVE IT
Getting baby in and out of this carrier is a breeze, which is especially awesome if you want to transition a sleepy child from carrier to crib. Just undo two side fasteners and the entire front opens right up! And, this style comes in at a good price.
KEEP IN MIND
The original design's shoulder straps aren't padded and can dig into shoulders over time. Plus, there's no waistband to distribute baby's weight so this carrier can weigh down your shoulders and neck.