15 Best Kitchen Gadgets Under $50
"Cooking is one of the many splendors of life. At least, if you know your way around the kitchen, it would be. Not a fan of cooking because you hate chopping up ingredients? Maybe these gadgets will help change your mind. Some of them help you save time for food preparation and take the annoyance of mundane tasks out of the kitchen, while others help keep your kitchen clean and in order. When the going gets tough, these tools will bring a smile to the toughest cook's face. If there's a wonderful kitchen gift idea you think we've missed, you can add it to this list and vote for your favorites as well."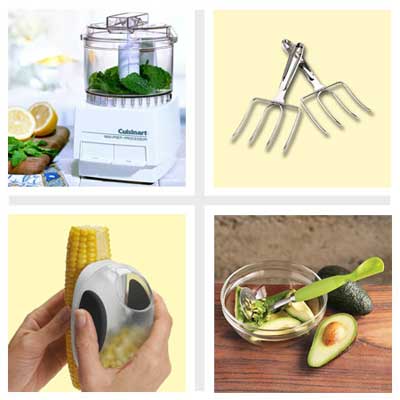 Cook Happy
Some kitchen gadgets remain state-of-the-art for decades—there's no improving on the rice cooker, for instance. Yet others are continually updated with smaller proportions, and so many bells and whistles that they'll do everything but the dishes. To compile our list of the best budget-friendly cooking tools we combed through the classics, the brand new, and the new-and-improved. If you don't already have these kitchen essentials, you'll wonder how you ever survived without them!
Four-in-One Avocado Tool
Instead of juggling (and dirtying) a knife, spoon, and fork when preparing an avocado, use this nifty all-in-one tool for ease, convenience and cleanliness. About $15, williams-sonoma.com
Coffee Grinder for Spices
Use a coffee grinder to freshly grind spices and achieve more flavor in your dishes. The Braun Coffee Grinder is an affordable way to concoct your own spice blends, control the texture of the grains, and just make less mess. About $145.